Help organizations recruit, manage, coach, and organize their potential with GRI's performance-driven approach to reaching new success levels. As a GRI affiliate, you are the person that leaders, HR experts, teams, and organizations rely on to help them be more resilient, and reach new performance levels.
GRI affiliates lead people and their organizations to accomplish great things by improving upon what they already do well.
GRI affiliates learn the right approach, focused on helping people understand their talents, and well-being, and learn about their environment's needs to adapt better, to set and achieve their goals and those of others.
If this energizes and excites you, it's time to become a GRI affiliate!
Contact us
Release the Power of the GRI
The GRI affiliate certification gives you access to a network of other GRI experts and companies, as well as new resources and continuous learning opportunities in GRI's performance-driven system, surveys, online tools, methods, and other resources.
By transferring GRI's power to others, you will experience a sense of empowerment and fulfillment, increase personal and team engagement, and advance in performance to grow their personal and team successes.
Your Path to Leading People and Their Organizations to Greatness Starts Here
Learn about the components of our comprehensive curriculum that prepares you to become an expert in performance-driven development and a GRI-certified consultant.
Step 1: Experience our Flagship GRI Seminar
Learn how the GRI behavior-factor-based approach and a better appreciation of talent apply to people, their jobs, teams, and whole organizations.
Make use of the platform to analyze, learn, and share results with people you invite to take the GRI survey. Start becoming familiar with feedback and lead conversations on how to improve performance, fulfillment, and success with others.
Attending the GRI seminar comes with our certification kit, which includes GRI's online tutorial, advanced access to GRI's platform, GRI's learning center, and support.
Step 2: Complete our Advanced-level Certification
After attending the GRI seminar, get certified by completing our online exercises and quizzes, and refining your techniques for providing feedback.
You build confidence in your new skills, by applying them to real cases of client organizations. You coach individuals and organizations with the GRI approach in hand, improving decision-making, team dynamics, recruitment, onboarding, and more.
You start learning consulting knowledge that will be needed for bringing GRI's full benefits to executives, team leaders, and HR professionals.
Step 3: Attend the "Coach Others to Fish" online course
By attending the "Coach Others to Fish" online series while continuing to apply GRI's tools and methods to individuals and client cases, you progressively learn the knowledge needed at consulting level.
With new online modules and support from GRI, you acquire the additional skills to lead the transformational experience of the GRI coaching and certification process.
Understand adult learning and the techniques used at GRI to accelerate leadership development. Learn to combine coaching, training, and consulting with real case experiences.
Step 4: Complete our Consulting-level Certification
After you have completed the GRI "Coach Others to Fish" course, get certified by effectively sharing your GRI's knowledge and expertise with others, delivering the GRI seminar while deploying GRI's approach in the entire organization.
You assist organizations, their executives, HR Leaders, and teammates by achieving their vision in a culture that values diversity and inclusion. You help them develop well-being and excel at new levels.
Promoting and deploying GRI in multiple companies of varied sizes and industries will grow your consulting expertise.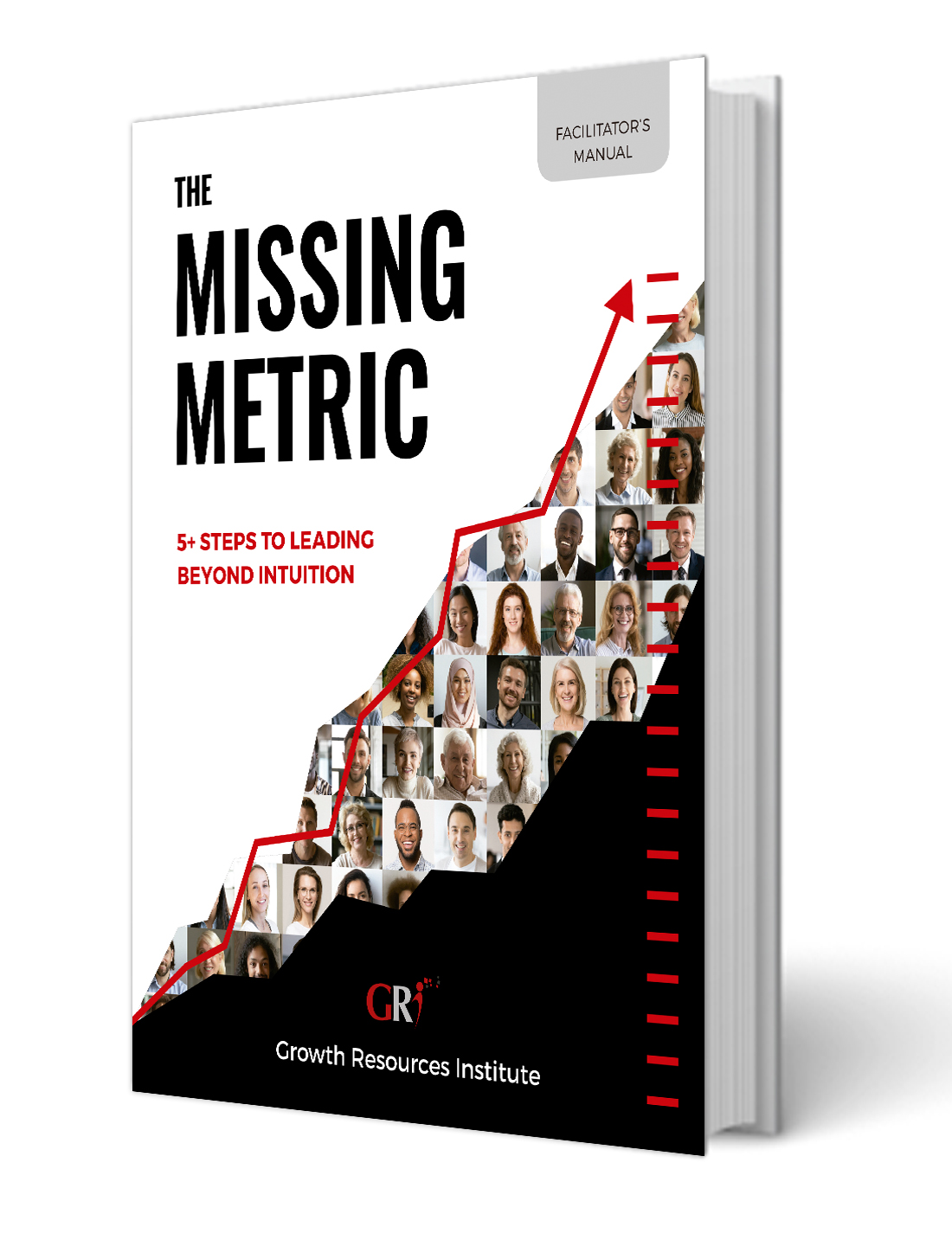 The Missing Metric
The Missing Metric: 5+ Steps to Leading Beyond Intuition provides to consultants with the facilitation skills they need to deliver the GRI seminar, follow-up sessions, and support to client organizations and their leaders.
Along with the additional courses led by a GRI senior consultant, participants receive the skills needed to promote and deploy the GRI solution to client companies.
What You Learn as a GRI Affiliate
The real benefits of the GRI approach start when you attend the GRI seminar, experience its transformational power, and when you take GRI's mind-blowing potential to others and their organizations.
"Becoming a GRI affiliate is the best investment I have made. I should have skipped all other certifications and just done the GRI." Peter F. - GRI professional
With the GRI, you learn how to educate leaders, managers, and HR experts to maximize their potential. You coach them on how to recruit, perform, and reach new levels of success. You acquire the knowledge to assist them in taking GRI's power to candidates, teammates, and many others in their organization.
Help Others Learn What's Unique to Them
Make use of the GRI performance-driven approach to help people set and achieve their goals, and to understand and adapt to their environment when it's needed.
Provide the Understanding of Trusted Relationships
Allow people and teams to discover their talents, understand their state of flow and well-being, and how to remove unnecessary frictions to work better together.
Coach Teams to Succeed Using GRI
Help teams discover and share their GRI profile and develop and use their unique talents to improve their engagement and productivity.
Coach to Hire the Best Candidates
Help companies attract, recruit and onboard the best candidates they need to achieve their goals and produce effective results.
Help Create Cultures of Inclusiveness and Diversity
Help organizations and their leaders build a culture that recognizes and objectively values differences between people.
Lead People and Their Organization to Greater Performance
Provide leaders, managers, and HR professionals with GRI's performance-driven system so that they can build amazing teams, and reach new levels of performance.